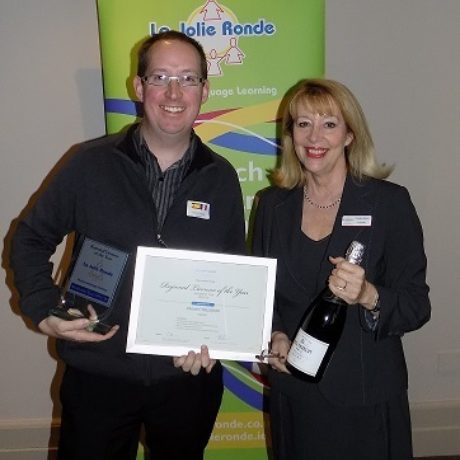 Monday, 25 Apr 2016
GREAT TURN OUT FOR THE SOUTH WEST & WALES LICENSEE MEETING
---
There was a great turn out this weekend at The Bristol Hotel as Licensees in the South West & Wales gathered for their annual meeting.
La Jolie Ronde's General Manager, Steve Baker, opened the meeting and gave a full company update, followed by founder Colette Hallam who spoke about the newly launched course programme. Pivotal Education's Barry Stay delivered a full day's session on Safeguarding children - the most important thing for anyone working with children.
LICENSEE OF THE YEAR FOR SOUTH WEST & WALES IS...DAN HAZELTON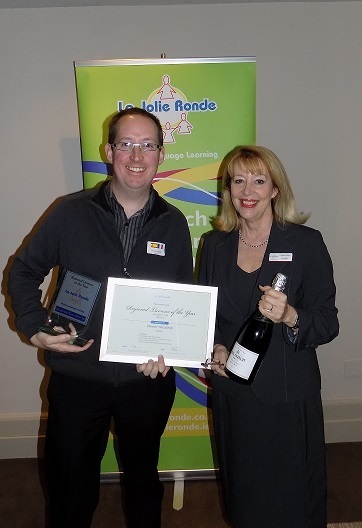 Dan has been with La Jolie Ronde for over 7 years teaching both French and Spanish in and around the St Austell area of Cornwall. Dan, who teaches in 5 local schools and 2 open centres, has grown and maintained a fantastic business teaching over 80 course pupils per week.
Dan was chosen for his outstanding commitment and passion he has shown to La Jolie Ronde. Not only does he have a great relations...hip with his pupils but he also communicates extremely well with the schools and with parents of his pupils. Classes always have a fun, happy and lively atmosphere and it is evident to see that Dan's pupils clearly enjoy their weekly lessons. Not only does Dan teach all classes himself, his experience and enthusiasm for La Jolie Ronde has also meant Dan has helped Head Office with its development on various Spanish resources over the years. Dan you are a shining example of what can be achieved as a licensee with La Jolie Ronde, many congratulations a well deserved Award.
10 YEARS SERVICE AWARD
Many congratulations to Emma Hodder, the Area Coordinator for Hampshire, Dorset and West Sussex who has completed 10 years of running her business with La Jolie Ronde. This is an incredible achievement and is testament to her, not only as a fantastic teacher, but also a successful business person. In order to reach such an impressive milestone demonstrates continued dedication and commitment to her business and to the children she teaches, not to mention bags of enthusiasm and passion for teaching languages. Emma has maintained really great pupil numbers over the years, which is another indication of a successful business, as well as relocating and starting a business all over again. We are extremely proud of you Emma and look forward to working with you for the next 10 years and beyond.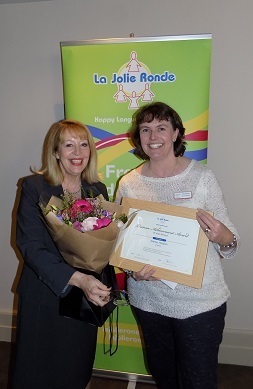 5 YEAR SERVICE AWARDS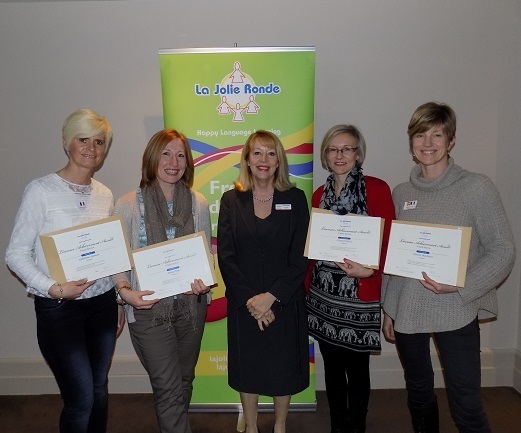 Many congratulations to the following Licensees who received their Five Year Service Awards:
• Tamsin Beadman
• Chantal Merle
• Sarah Mouille
• Fiona Pryce
• Sandrine Spencer